Trail Layout and Trail Design
This is one on the most critical components to sustainable trail development. When trails are designed and constructed correctly they will require a minimal amount of maintenance in the long run. When a trail is poorly designed with excessive grades and no rolling dips to shed water it will be more costly to maintain, even if it has been constructed correctly.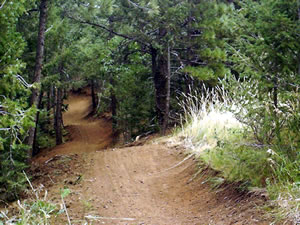 Numerous agencies continue to invest significant amounts of labor and money into trails that are not sustainable. Often the sections of trails that are causing the most problems could be rerouted to more sustainable grades in less time than trying to fix them on an annual basis.
Ideally, trail design should be conducted by trail professionals. However, staff and volunteers with appropriate experience may also be considered. Remember that even small mistakes made during the design phase can lead to huge problems in your long term maintenance commitment. Our employees are trained to use sustainable design principles that have been developed in the last twenty years. One of the most important philosophies is to keep trail grade averages to 8% or less in most soils. By observing your local trail system it is usually easy to notice the difference in the erosion capability of trails with grades greater than 8%, They are often more rutted and degraded than trails with grades between 2-8%. Trails in flat areas also have inherent problems with drainage and should be avoided or constructed with special techniques.
We pride ourselves in designing and developing sustainable trails. We have turned down a variety of trail projects because they were simply not sustainable and we felt uncomfortable being involved with projects that would inevitably create a trail maintenance nightmare. Our impacts on natural resources should not be exacerbated by poor trail design but minimized by sustainable trail design. Sustainable trails or trail systems we have designed and flagged include:
Lincoln Mountain Open Space (Douglas County, Colorado) 
El Tesoro de Los Angeles (Woodland Park, Colorado) 
RAMAH in the Rockies (Deckers, Colorado)Baxter Gulch Trail (Crested Butte, Colorado)
Mosier Gulch Trail (Buffalo Wyoming)
Little Rainbow Trail (Salida, Colorado)
Bobcat Ridge Natural Area (Fort Collins, Colorado)
Soapstone Natural Area (Fort Collins, Colorado)
Buena Vista River Trail and Barbara Whipple Trail (Buena Vista, CO)
Solitude Trails (Douglas County, Colorado)
Hidden Mesa Trails (Douglas County, Colorado)
Ajax and Benedict Trails (Aspen, Colorado)
United States Air Force Academy (Colorado Springs, Colorado)
Cheyenne Mountain State Park (Colorado Springs, , Colorado)
Douglas County Open Space (Douglas County, Colorado)
Shock Hill Trail (Breckenridge, Colorado)
Breckenridge Outdoor Education Center (Breckenridge, Colorado)
Mallard Ponds Trail (Loma, Colorado)
Eagle Wind Trail (Lyons, Colorado)
Grant Lake Trail, (Crested Butte, Colorado)
Ajax Trail (Aspen, Colorado)
Lower Loop Trail (Crested Butte, Colorado)
Soda Creek Trail (Evergreen, Colorado)
McKinney Roughs Trail System (Bastrop, Texas)
Breaks at Bar H Mountain Bike Ranch (Saint Jo, Texas)