Creede Colorado - OHV trail maintenance and Improvements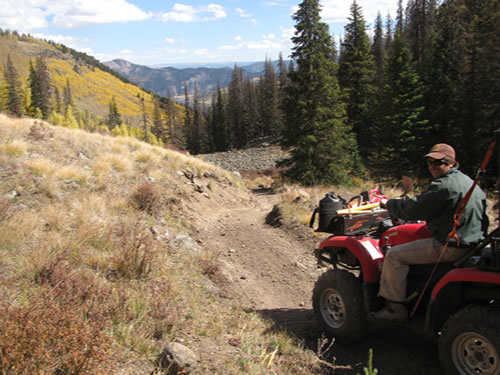 The Creede Off-Highway Vehicle Club hired Arrowhead Trails, Inc. to complete maintenance and improvements on The Fern Creek and the Lost Trail, located in the Rio Grande National Forest, Divide Ranger District, of the United States Forest Service.
Arrowhead Trails, Inc. widened the trail tread where overly out sloped, blasted and removed boulders, widened switchback turns, and built substantial grade dips to improve safety and erosion concerns along the trails.
The reconstruction was competed in two 4-6 week mobilizations over the 2009 and 2010 seasons and improved over eleven miles of OHV accessible tails. The Arrowhead crew also installed two prefabricated cattle guards to ensure that the improved 50" maximum width OHV restrictions were followed by users of the motorized managed trail.
Creede Off-Highway Vehicle Club
See the Creede Colorado Trail slideshow