Arrowhead Trails Portfolio - Federal Trails
United States Forest Service – Pike and San Isabel National Forests – San Carlos District
Arrowhead Trails entered an agreement with the San Carlos Ranger District in 2011 to reconstruct portions of the Rainbow Trail starting from the South Colony Trailhead and continuing North. USFS - Pike and San Isabel National Forests - San Carlos District details
Bureau of Land Management, Salida District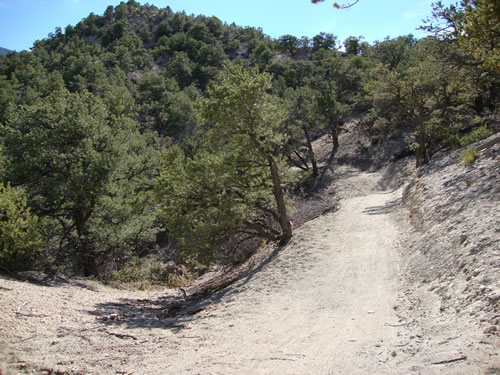 In a combined effort with Salida Mountain Trails, Salida Open Space and Parks, Southwest Youth Corps,and Arrowhead Trails, Inc., we helped plan, design, map, and construct Salida's first mechanized 48" multi-use natural surfaced trail, the Little Rainbow, extending 5 miles from CR 110 east to the Racetrack Trail below Methodist Mountain. Little Rainbow/Methodist Mountain Map, and Arkansas HillsTrail Map.
Little Rainbow Trail Extension details
United States Air Force Academy, Colorado Springs, Colorado
Developed and implemented a Trails Master Plan and Maintenance Plan for the Falcon Trail (14 Miles) on campus and 3 miles in the Farish Recreation Area. Falcon Trail voted best Mountain Bike Trail in Colorado Springs 2007. Air Force Academy – Falcon Trail Assessment and Maintenance details
Rocky Mountain Research Station, United States Forest Service
Five miles of high altitude trail maintenance and log puncheon construction on the Diamond Lake Trail, west of Nederland, CO, in the Indian Peaks Wilderness Area. All work was above 10,500' elevation and allowed no machinery or power tools.
South Platte Ranger District, United States Forest Service
ATI installed grade dips and enhance tread outslopes along the Buffalo Creek trail system to prevent erosion after the Buffalo Creek Fire (15 miles).
South Platte Ranger District, United States Forest Service
Redesigned 30+ miles of ATV and technical motorcycle trail system within the highly used Rampart Range Motorcycle Club area, west of Castlerock, Colorado.
Salida District, Bureau of Land Management
Constructed short sections of trail at Railroad Bridge for gold placer miners to access the river, and Hecla Junction for angling access.