Lower Loop Trail - Crested Butte, Colorado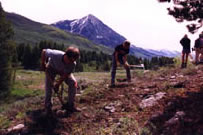 The Crested Butte Land Trust and its partners hosted 180 volunteers on National Trails Day 1999.
The Lower Loop had been closed for 10 years prior to this reopening. ATI organized the volunteers efforts, prepared the trail tread for surfacing, and placed the bridge supports and cross members.
Trail groups worked together to build 1.0 miles of singletrack, surface 0.5miles of ADA trail, and finish construction of the 3 bridges.
See the Crested Butte Trail Construction Slideshow