Pump track officially opens
Kevin Hoffman
Mail Staff Writer
Kids love bicycles and dirt so the dedication and ribbon cutting for Home Run Pump Track Saturday drew a crowd of kids eager to ride the fresh dirt course northwest of Marvin Park.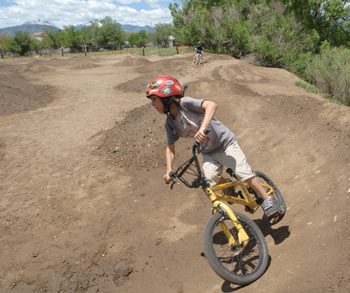 Clayton Church, 10 of Salida, picks up speed around a berm at the Home run Pump Track Saturday. Church said, "I try to ride the track two times a week when I can, but sometimes my little brother hogs the bike." Photo by Kevin Hoffman
The term pump track designates the action used to move through the small winding course. After initial speed is attained, a skilled rider should be able to move around course making laps without pedaling.
The rider uses the upper body to push the handlebars down on the downhill and lifts for the uphill, gaining speed.
Fawn Walker, Salida bike park committee, likened the motion to that of a swing set. Force is used to get the initial momentum and once in motion the rider uses little energy to loop variations in the course.
Walker led fund-raising efforts and said the course hones skills for more advanced mountain bike racing and BMX racing using tracks with larger features or a less controllable single track.
"It teaches kids to maneuver a bike in a low risk environment, but the people who come out can be gauged from four years old to fifty plus," she said.
In size comparison to the rest of Marvin Park, the track is relatively small. Sited on less than one acre between the west outfield fence and above the Arkansas River, the track has a series of dirt rollers and berms, the largest of which is five feet high.
Spearheaded by Salida bike park committee, the effort to put in a public pump track began in December. The organization is a sub committee of Salida-area Parks, Open Space and Trails.
Committee members Walker and Wes Stobbe formed the organization after a meeting with Salida officials to propose the idea for a public track.
Walker said after the initial meeting the committee was formed and a site analysis was performed on three possible locations including land off CR 177 or at Ben Oswald Park.
The city agreed to a five-year lease on the space at Marvin Park because of its proximity to town, access to restrooms, water and drainage.
Walker said fund-raising produced $8,000 in cash with half of that from local sponsorships and the balance from the pump-raiser held in March.
Arrowhead Trails of Salida completed installation of the track, and in donating manpower and equipment.
Arrowhead estimated total cost from start to finish at $32,000 including in-kind services and materials.
Arrowhead staff and other volunteers moved 330 tons of dirt donated by local dentist Brent Sites.
All users of the track are asked to sign in every time they visit because the information will aid in writing grants for future projects.
Pump track officially opens - Salida Colorado
Summer 2010 - The Mountain Mail